What's best to be done on a Friday night?
MASSAGE LAH! After working for the whole week,it's time to relax. Partying should be reserved on Saturday,when you are refreshed after a good night of rest on a Friday night. Before you head home,take a trip down to...
No sleazy massage parlors,I mean go to
Adonis
!
I'm sure a lot of people heard about Adonis before don't we? I gladly accepted an invitation to take a trip there and try out one of their treatment. And I'm glad I did,because the treatment is just so wonderful! Adonis truly live up to its standard. The treatment that I had was
7 Haven Chakra

.
.
.
.
.
.
.
There are 7 points in our body which affects our emotions and body functions. It is located within our body,you can call it a form of energy. Let me show you where are these locations.
More or less located the points already? Stop touching yourself lah :p
Anyway,these points are closely related to each other. One point will affect the next point and that is why some people find their whole body feeling very tired. An example of what's going on:
You have a headache,splitting headache. Your
crown
and
third eye
chakra has be been affected. Soon,after awhile your shoulders starts aching too. That means your
throat
chakra,located closely next to the third eye chakra. Then your chest starts to feel uncomfortable. This goes on and on. It can't be your head pain and suddenly your stomach also pain mah,correct? It goes down,point by point.
Cutting this short,
7 Haven Chakra
by Adonis uses essential oil treatment to help balance your body and relieve the stress pent up inside. Enough talk,let's take a trip inside and show you what's going on. Here's how it looked like inside: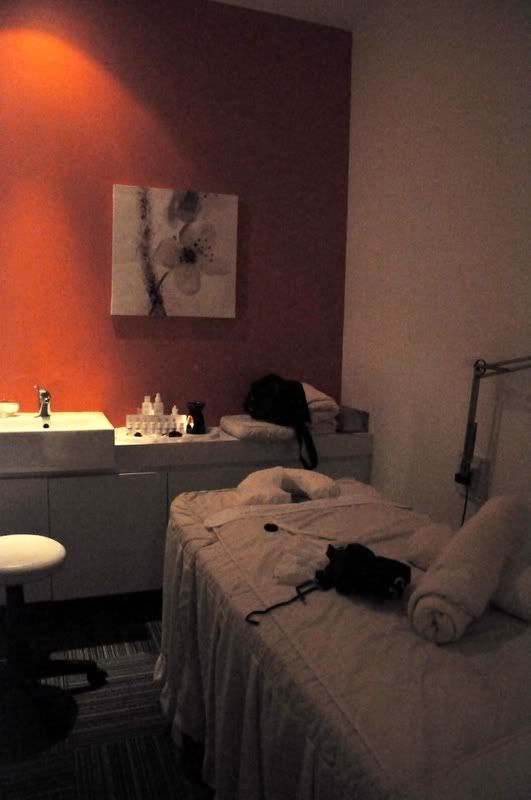 No worries about the treatment. The main thing they want to help you is to relax,so they wouldn't be talking to you but let you enjoy the treatment. Don't worry about the awkward silence either,there will be soft instrumental music playing in the background. Hey,I heard Ayumi Hamasaki's music being played! Acoustic version,totally loved Ayumi to bits.
7 essential oil
to put rubbed on you.
Each oil actually smelt different,7 different kinds of smell.
Look like I'm praying hor? No lah,the manager,Meina invited me to smell the last one,the root chakra. I'm not saying that I felt the effects immediately,but it did help me to relax a bit and not feel so nervous. Standing beside the manager is Crystal,she is the one who is attending to me.
Not too hard,not too soft.
Soooooooo relaxing that you kinda feel like sleeping.
Most people are afraid of those china people who massage and squeeeeeeeze super hard that it's so painful to even relax. However,you can be assured. These people at Adonis,they are professionals.
A cuppa tea to flush the toxin out of your body. Alternative choices are Anti-flush and Energy Pack.
It costs
$280 per session
. But WAIT.
DO NOT GET TURNED OFF.
Adonis has generously offered 5 lucky readers of mine a chance to indulge in this. All you have to do is:
Email your name, NRIC ,contact to
pick.my.entry@gmail.com
Subject title?
iloveyingziblog
!
Seriously,
I rock. You've gotta be loving me!
Don't be shy,I wouldn't know if you are secretly in love in me or not,so just go ahead and send in your details. And who said guys aren't allowed? I saw a hot Angmo leaving the place with a pleased expression on his face! No hanky panky allowed okay. And,because they are professionals and not pushy like some places who will force people to sign up for their packages,they have gotten a CASE trust.
Now,do you still need anymore reasons to email them? I think it's enough said!