Last week,Jia Qi introduced us to a new place for dinner.
And the location is...
ORCHARD TOWERS!
Yeap,that's right. I'm thinking the same thing as you are. Isn't that the place full of trannys? I guess I'm in for some show. She told us that the
mamasan
usually don't appear,but she appeared once when JiaQi was there for the third time to eat. Who knows if we're lucky enough to see the mamasan? We waited outside Orchard Towers as June had overslept and her boyfriend
(June,faster marry then I can say June's husband instead June's boyfriend! Hehe)
is fetching here to come here. Then when we finally couldn't wait any longer,we head up first. I see all the ktv and pub there,it makes me feel a little uncomfortable to eat at this kind of place. Jia Qi just told me to ignore the feeling,must think that
we're just here to eat
!
Weijie
,
Angel
,
Ash
,
Jing Long
,
Donovan
,
Jiaqi
(Anti-clockwise)
A few of them ordered
Milk tea
,I think. Yes,I was wondering why is the milk tea ORANGE in colour. Then they told me that this is Thai milk tea. Isn't milk tea all the same? I didn't give it a try,and to play safe,I ordered the usual
Coke
.
Poor Weijie,he
gei kiang
,go and order a
home-made Aloe Vera drink
. He had shock when she brought him a cup of transparent water with Aloe Vera inside. Something like your bubble tea shop packaging with water and Aloe Vera.
The Olive Rice
recommended by Jia Qi.
She said that it's delicious,I kinda doubt it by looking at the colour. And it looks like oily too. But uh-uh,don't judge the rice by it's colour.
IT IS DELICIOUS!
Yums-yums. I'm drooling just at the thought of it.
This is the
Mango Salad
. I don't like the look of it either. Looks like vegetable to me. You can imagine,I didn't wanna take a bite until one of them kept asking me to try. They explained that those strips are actually mango. (Huh?) Okay,take my first bite...
Argh,not nice! At least it's not the super-veggie-ish kind of taste. How to explain leh? Hmmm...
Super Spicy is the word!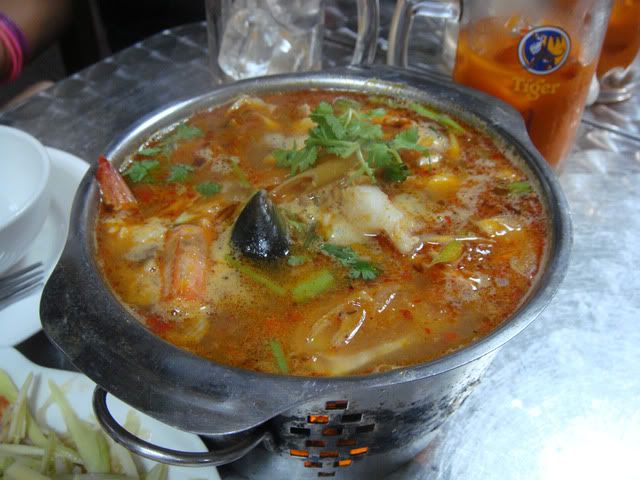 This is the main dish that we all came to try,
Tom Yam Seafood soup
!
Quite yummy,it really is spicy. There's mussels and prawns in the soup. But no fish,I think.
Then June and her BF came! They started ordering food.
Here's what they ate.
The fish look very nice lor,but the rest didn't wanna order cause it's pretty expensive. Imagine,$25 just for the fish! June let us tried a bit of the fish and with the soup,it's hell spicy! They took a spoonful of the soup and then a big gulp of water.
And we played 'guess the number',the loser has to drink a ladleful of the soup. Gees,don't belittle this soup. Even more spicy than our tomyam soup! Guess what we saw?
.
.
.
.
.
.
.
.
.
.
.
.
.
.
.
.
.
.
.
.
.
.
.
Yes! I don't know if they're girls or what. But they told me that they saw the 2 girls quoting the price and the guy was like,showing 2 finger sign. Perhaps he wants the 2 girls together for the night! Wow,what a sight. Literally pawing you and asking you to go into their ktv/massage parlors.
Don't believe what you're seeing? Show you again!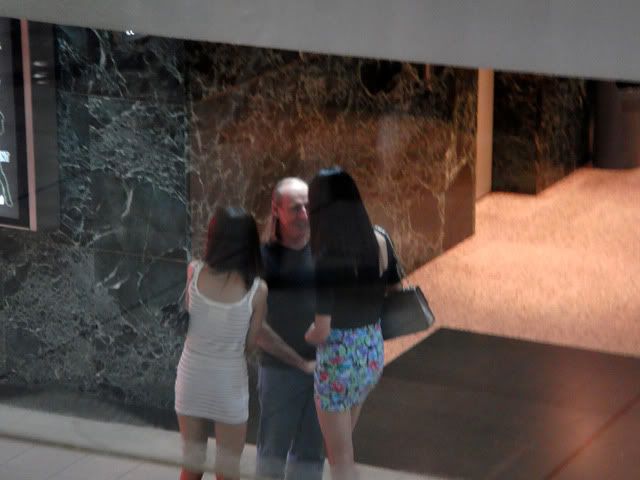 Wah wah,watch where your hands are going hor!
See the happiness on his face? Lustful toad.
The guys were laughing so hard over our local "Beyonce" that they can't help twitting about it. And Donovan even ran face-to-face into one of them! Actually,they have really nice ass. Hmmm..
Then we head off to Wisma first to Dorothy Perkins to check out some stuffs before going to ION to grab a cuppa from Starbucks. It's so full at Starbucks that we don't a place to sit,sigh. I would love to seat around the table and chit-chat in the nice environment,with coffee scent in the air. Then we bought Chocolate frappucino(love it!) and Strawberry yoghurt(sour sour). But it's okay,we went outside Wheelocks and sat there chit-chatting.
Oh,the love of laughter!