Hello everyone!
Sorry for not posting anything for a long period of time. Were you waiting? So sorry,the only complain department you can complain to is... ME! Haha,okay la. I'm here with new updates. A few days ago, Gin and
June
invited me along to the ELLE party held at
Scarlet hotel
. I don't really know what to expect,so go see see lor.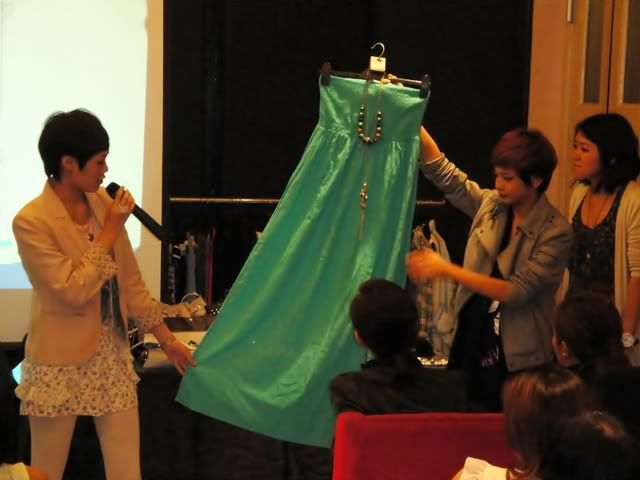 Maxi dresses! My favorite,it's really nice.
Look,isn't the models pretty? I like the one on the right more. Though she look like she could kill you,but still,pretty! -thumbs up-
More introduction on the products featured inside ELLE magazine. The above seen can be found inside Dorothy Perkins,I think. Quite nice
A free make-over by Make Up Store.
We were also also given 3 months free membership at the store,shiok much!
That's me in the magazine! And who's that girl standing next to my poster?
Okay,wtf max. Just kidding. Anyway,cannot really see the girl's face also.
Here's a girl trying out eye-lash extension.
One of the staff from
Carragheen
is putting on the
Princess lash
for her. Wow,something new learned. If you wanna look natural,go for the
single lash
. If you want like a lot a lot of lashes,go for the princess look. I have got the $10 voucher,so email me if you want it okay?
To me ah,I think the highlight of the event is probably the food. See? How nice this SUPER TINY cake is. Refreshments were served after awhile,and everyone chiong for the food. Gosh,you have no idea who is the everyone I meant. I find it weird to see:
Ahgong,Ahma,Aunties and uncles there!
Not that they can't be there,but they don't look like they read that magazine you know? The place is quite small,all the seats were taken up. Then suddenly I see this ahgong's head pop up next to me.
Shocking much.
It's like you reading Teenage magazine 'Dear Kellys' section,suddenly the auntie or working lady next to you exclaim:" Oh,that poor girl" And yakyakyak.
Oh well,let me introduce you to one guy...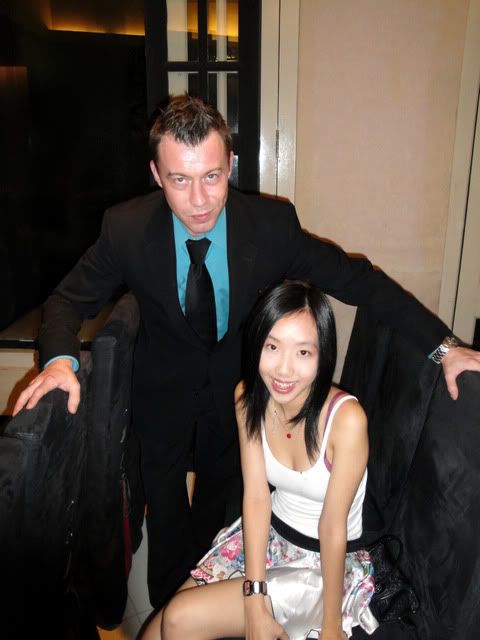 Tadah,Oliver the F&B manager!
He's damn gentleman lor,I'm totally bowled over! Gin was like super hungry,so she waved for one of the waitress to bring over the tray and the waitress like in a hurry to walk off. Then out came the manager who ask her to stop and give Gin the salmon. And when I requested for one too,he was like: "
take take! Take all you want. These salmon are fresh,for you ladies!
" Gosh,so gentleman la. And he instructed the waiters to serve us first before others lor. I think he's French,so you guys should go Scarlet Hotel's Italian Restaurant and try the food! They claimed to be the best in Singapore. And who knows? Perhaps the manager might dine with you.
OKAY!
Stop stop stop. Must stop my fa hua chi~ Gentlemen cannot be described with words,only experienced. So go and try their food. The refreshments itself was very good. Yummy!
June and I
Gin and I
I think we all look so happy la,lol! Gin and June had a
Braun Baffel
photo album. So cool lor. Mine is
Dorothy Perkins
gift card and
Agnes B
towel. Never mind,at least I'm using a branded towel okay!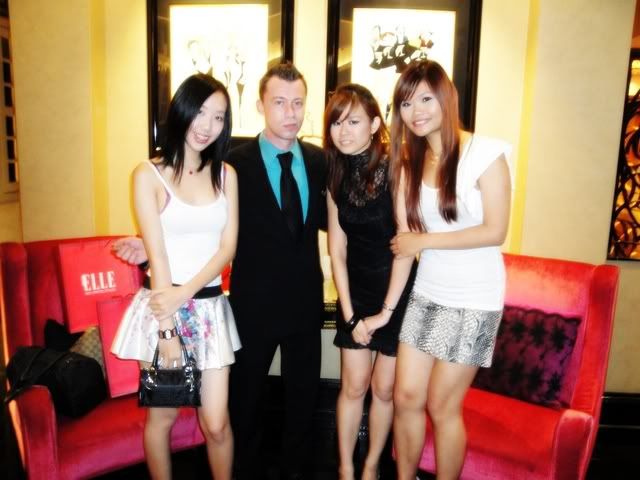 There you go.
BYEBYE!