I am so pissed off that my dentist promised me that I could come on Sunday to put my braces and didn't give me a Sunday slot. But never mind,shall rant about that another day. Yes,now you're reading it. Where did I go for picnic on sunday?
East Coast?
Nope.
West Coast?
Nope.
Punggol?
No,not that either.
Give up?
It's at the...
CEMETERY!
Yes,that afternoon,I went to meet Weijie, Daniel and Amanda at Chua Choa Kang MRT. Eevon had to leave,can you imagine?! The organizers didn't turn up! I was shocked of course,definitely;that there's only going to be 4 of us. But I was determined as well that this must not be a wasted trip. Hardly do I come to the west side,so off to Lim Chu Kang Cemetery!
Some asked,why cemetery?
I asked the same too. But it's purely cheap thrill,you'll never imagine having a picnic there right? I expect the day to be hot. But it wasn't. Keep an open mind,I'm sure you'll find it serene there.
I even wore white that day. White top,white skirt.
Amanda said that what I lack of is a bunch of flowers.
Daniel brought the mat that we're sitting on,it's such a nice picnic! It is pretty windy. We took
172
from the interchange and alighted outside the Christian Cemetery before walking over to the Chinese one. There were some foreign workers there playing criket. We just place our mats and open up the food that we brought.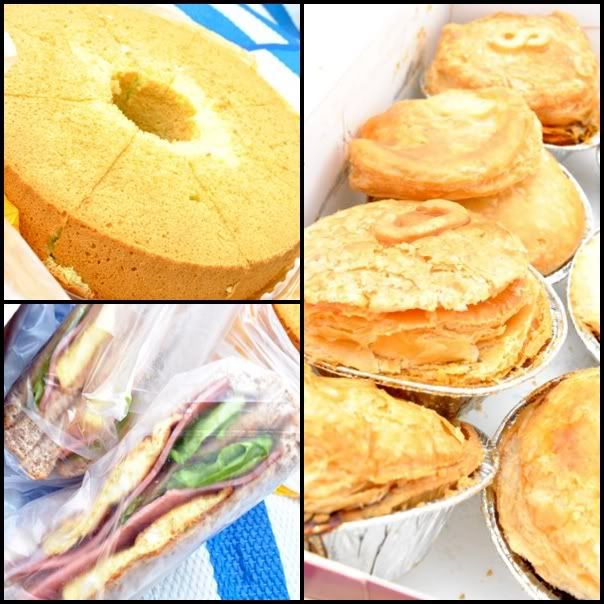 Pandan cake brought by
Daniel
,
Pies from Pie Kia bought by Eevon,who left before she even reached the cemetery.
Wei Jie
bought Lemon tea & Green tea.
Handmade sandwiches! Betcha didn't think it was made by the photographer of the day:
Amanda
!
My bestie! Gosh,I look fat. FML. Like the rays from the sun? There's more..
The whole place is so vast,and it's a windy + over-cloudy day. The wind is blowing,it's so relaxing. Put your mind at ease,you'll feel peace. Picnic among the tombstones,there's nothing to fear. We thought of packing up as the clouds were moving moving really quickly. But luckily it's moving sideways rather than towards us. But nevertheless,we ate and finished up the drinks before packing up to explore the area.
Other than walking on this road,what can we do?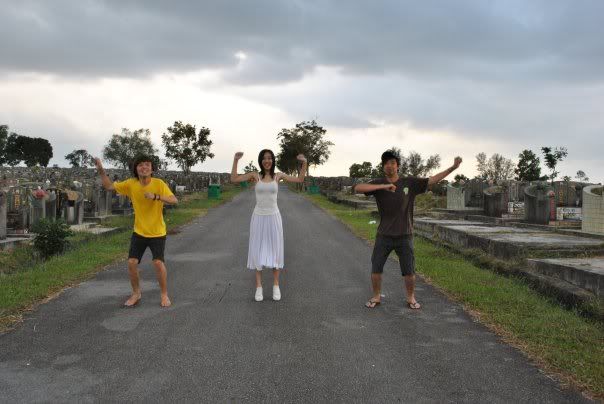 I am wonder woman!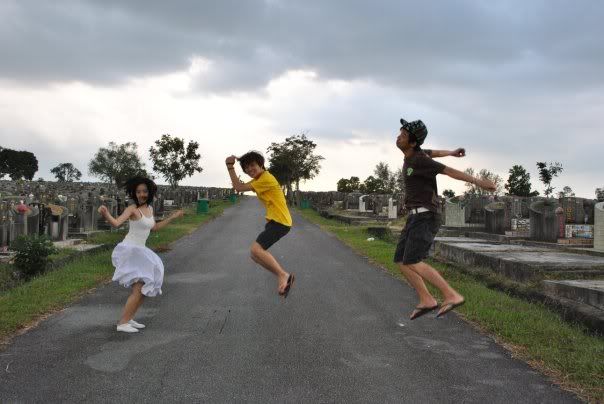 While it's getting really late, we all walked towards the bus stop. The whole place was not scary at all,no goose-bumps or anything. A couple cars of families drove in to pay their respects to their ancestors. It's quiet,and serene. You can feel the wind blowing your hair. So peaceful.
I was looking over the countless graves when she took this shot.
It was meant to be a normal picnic,but I can't help wondering about my life paths too. I said to her that I cannot face rejections. Sometimes,the fear of rejection is what stopped me from doing things. She looked at me in the eye and said,
would you rather people let you down or you let yourself down?
That strike a bell in me.
My faith in pursuing a diploma in Psychology was faltering,I felt lost. But she gave me the courage that I needed. She told me about her pursuit as well. That day,I found a friend. Amanda.
Each day,the sun sets in a different way. That day,was one of the most beautiful sunset that I have ever seen.