Sigh,such a boring day.
Bored bored bored. Let me fill you in with boring details.
My wallet's zip was spoilt. It's been like,only 1 year? I bought a fake Gucci wallet from Malaysia,it costs only $15! Cheap right? I was happy and contented using it until I found the next wallet to change. Then,this thang's zip can't be closed anymore! Damn,things will fall out lor. No choice,using back my Elle wallet that I bought for $150. Hey,at least real stuffs doesn't spoil. I bought it for 3 years already,used it for 2 years and still haven't spoil okay!
Using back this wallet. White,I think it suits me better than any other colors.
Same goes to watches,you seriously think a $5 can last you how long? And its ugly lor. Okay,maybe for $10 you can get a better looking one but there's no way it can last that long. And no warranty too!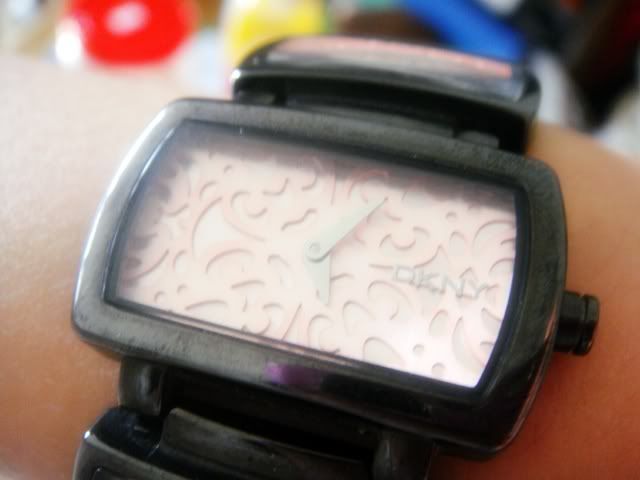 Pink DKNY watch
This is given to me by my ex,$350 I think. Had it for 2 years already. Speaking of which,I think the warranty is about to be finished soon. I don't have to change the battery,cause it's just that lasting! But I think I better do it before the warranty ends.
I suppose it's just a personal preference. Maybe you like to buy cheap stuffs,change many times. But I prefer my things not to spoil. It's still money after all,buy something that is more lasting what!
Love my watch! But not the person who gave it to me of course.
The story of this watch is damn funny. I want a chio bling bling hello kitty watch,not the kiddish kind. He took one look at it and say it's too childish. And proceeded to drag me to buy this watch instead.
Anyway,on Friday was the day that I headed to Andy's house for Mahjong. The day was so
unlucky
that I didn't feel like going to play,scared lose money what!
Firstly: My wallet spoil,the very first entrance to money-losing!
Secondly: I walked past a funeral site and the people there are doing the funeral rites.
Thirdly: Shortly after I got on the bus to go Andy's house,the bus got bang by a stupid van.
Wah lao eh,I PRAYED before I came out of the house leh!!!
STUPID VAN make me late.
Van VS Bus
,of course the bus win right? Lucky for me that I wasn't sitting at the lower deck,which I previously wanted to cause easier to get off. Now I thank my lucky stars that I wasn't at the lower deck. No casualties. But the impact caused a sudden jerk,it could have been worser if I was below.
I got off the bus and called WeiJie to tell him that I don't feel like going already. Poor him,nearly blew up at the interchange. He told me not to play,just visit house will do. Then okay lor,just go. After I alight and before I reached Andy's house,I went to do something to try warding off the bad luck. Shan't tell you what it is,and it's not praying either. Besides,I'm itching to play don't wanna lose money!
Anyways,at the very end,I won the most money!
FML though,the rules set by the host was that no matter how many
tai
it is,we just have to pay $0.50. Zi mo(self-touch) no extra,yao(animals bite) and gang(4 tiles) is $0.10. No kick lor. But you lose and win very little also.
Yayness!
This is a partial farewell gathering for Mel as well as he'll going to China for 6 weeks!
1.2.3.4.5.6 whole weeks! Wow,sexaye,we'll all miss you!
Look how cute the Ang Pao that Andy's mom gave,MEOW!