I bet you all are so eager to see the ugly side of me.
Ya la,show you my teeth lor.
Started the day by meeting Xin Yi to check her teeth as well. She went to the clinic to get a referral letter but was directed to call the school dental clinic at Outram Park instead. I saw the extraction at polyclinic cost only $20. It's a lot better than what I have in my own clinic: $60. So I asked about it and she said
polyclinic dental are only for people who are not schooling.
In other words,adults/school-dropouts?
When I called to check the one at outram park,the nearest appointment is in April! Goodness,who the hell can wait until April? As for Xin Yi,hers is the nerve exposed already. She's in pain but the nearest appointment is only at the end of March.

Great,suffer for one month plus?
Okay,never mind. Guess you should be more interested in my
ugly
photos.
4 teeth,4 holes.
My teeth is so ugly,see the need for braces now?
I will spare you from the amount of tissues and blood,but I cannot resist showing you my tooth. Teehee! Don't freak out,don't you people love watching Saw 1-6? A tooth wouldn't kill.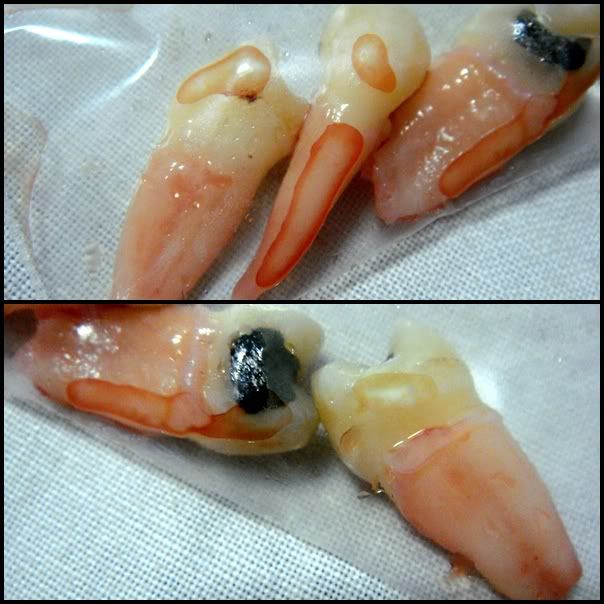 I find it interesting,my teeth is so long!
I am going to put my braces this Sunday. I've been told that after putting braces,it'll be weak for 2-3 days. I sure hope it's really only 2-3 days! As for
valentines
day,guess it's either I can eat or...
My partner shall eat porridge with me.
HAHAHAHAHAHAHA!