It has been a very long week, and I'm late today again for the appointment.
I reached at 12.15pm instead of 11.30am. As a result,another patient went in first and I had to wait until 12.45pm. But I'm thankful for that,because I went to have lunch with my mom at the food court. Yes,porridge again. I'll take a super long time because I can't really bite well for meat. My teeth is recovering quite well from the pain. But she realized that one of my seperators fell out,that's why that side didn't hurt anymore. Now she slotted it back in,I can feel the tension AGAIN. FML.
What happened ever since the first visit?
My teeth was damn painful,stinging pain. Especially after I woke up,because the teeth is growing and being squeezed due to the seperators. I was contemplating whether to eat painkillers or not because I don't want the painkillers to weaken my immunity.
You DO know that painkillers reside in our body for 5 years,right?
Especially for women,if we keep taking painkillers now,we'll need more painkillers than an average person to ease the pain while giving birth in future.
I remembered last Saturday,I called my bf to tell him about the pain. Just rant to him and tell him about my day. You know,communication ;)
me: Hi dear
he : Eh,hello. Playing mahjong now.
me: Erm,okay. I...
he : Hey,just let you know first. My phone is out of batt already,I'm switching it off already.
If there's anything,we'll talk tomorrow okay?
me: Oh,okay,maybe you can use your friend's phone to text me?(bf should be concern about me whattttttttttt)
he : No. Not a good idea.
me: Please?
he : Okay,I see first.
me: *wants to quickly summarise* I just want to tell you only...
he : Hey,phone no batt already. I gotta go,bye!
me: .......(look at the phone)
Oh great. Well,whatever.
Enough of crap,let's see my xray *beam*
My teeth ones.
Look,4 wisdom teeth yet to come out. This is so interesting!
My head.
Oooh,I can see my neck bone. It's interesting too! In my opinion-.-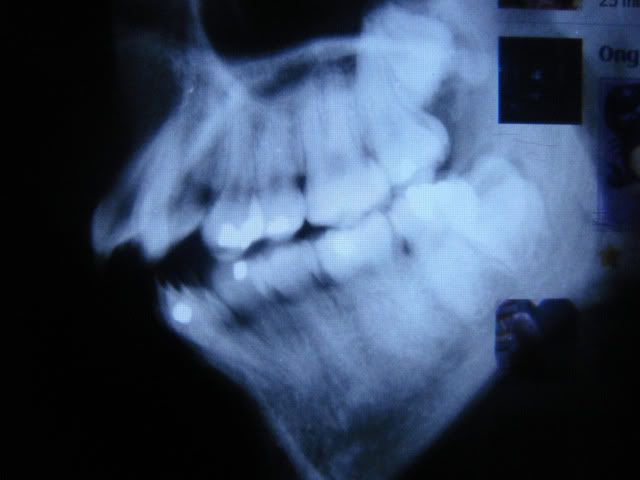 Close up views
Yupe,those whiter parts are actually my dental fillings. If you compare to the first xray of my teeth,I do have a lot of dental fillings. Which is why I always dread to go to the dentist. It's interesting to see your own teeth,like there's something hidden inside yourself but you can see it. Of course you'll probably be bored to see others'.
The dentist say that I have a very long jaw,probably explains why I look as though I have a long face. But it wouldn't affect my braces. I'm going to have braces for on my 4th visit,next Sunday. Just now,I could have my extraction of 4 teeth done if I waited half an hour more. But I didn't want,I'm not ready!
Will anyone please tell me how does extraction feels like? I'm really scared.
Extraction of the tooth next to the canine teeth will be done on Tuesday. My specialist told me usually she'll let the rest of the teeth rest and stop bleeding as it will feel a little sore after extraction. Gosh,I'm really nervous by the whole thing.
Please,please,please.
PLEASE DON'T LET IT HURT!