Yesterday,in case some of you might not know,it's the peak of meteor showers.
Many including my brother went to Chinese Garden to watch it,but I was instead directed to East Coast Park to watch it because Kai Zhi told me that over there is dark enough to watch the meteor showers too. He even said he'd chop off his head if we didn't see any. And I heard that as long as you're in Asia,you have a higher chance to catch it. Just go to a dark area. So no worries for those in Malaysia,Indonesia or China.
In any case,this is actually called LEONIDS meteor shower. Why?
The Leonids are ultra famous because of amazing meteor storms in the past. The Leonids generally have been some of the most brilliant meteor showers over the years and take their name from the position of their radiant near the constellation Leo the Lion; this is because the meteors seem to materialize from that point in the sky. I would love to tell you that this year the Leonids will be a meteor storm, but meteor showers are one of the most unpredictable events. One of the most notable Leonids Meteor Showers was categorized as a meteor storm, which occurred in November of 1833 where an estimated one hundred thousand meteors bombarded the Earth's atmosphere per hour. The Moon will be a waxing crescent with
1% of the Moon's visible disk illuminated
! This means that the sky will be very dark so the Leonids have a chance of being a very strong
meteor shower
showing.
-
Meteor Mark
So wow,

100,000 meteor/hr

hitting Earth in 1833?
Okay,but sadly that's not the case for yesterday night where is was actually predicted to be
500 meteor/hr
than the usual
10 meteor/hr
. True enough,I don't think I saw any sign of moon last night. BECAUSE THE SKY IS CLOUDY TOO! Here's are some of the pictures taken that Kai Zhi took with his D80.
This is how the sky actually look like to our human eyes. But what the camera captured was: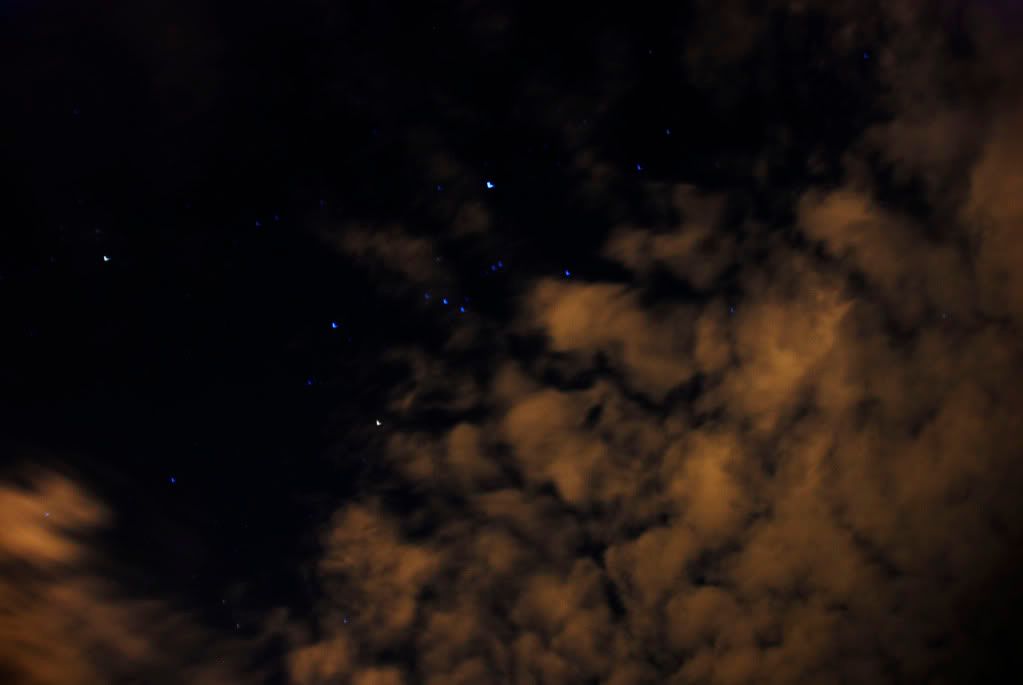 So are those many stars too tiny for us to see or one of the 500 falling meteors/hr???
And strangely,I wonder why are they tiny tiny red dots around. They're in perfect circles too.
What are those anyway? Aliens ah?
Sad to say,I cannot see anything. No falling meteors,only seen it on the camera.
How how?
Now,where's Kai Zhi's head?