Finally the day came when I had a chance to go to Kitty Lab!
It was 2 days before they leave,
Joyce
invited me to join her during the Public holiday where people would be house-visiting or visiting the first day of Sitex IT fair instead. $38 for the entrance isn't cheap,I'm going to make the best out of it!
Went to buy the tickets at the entrance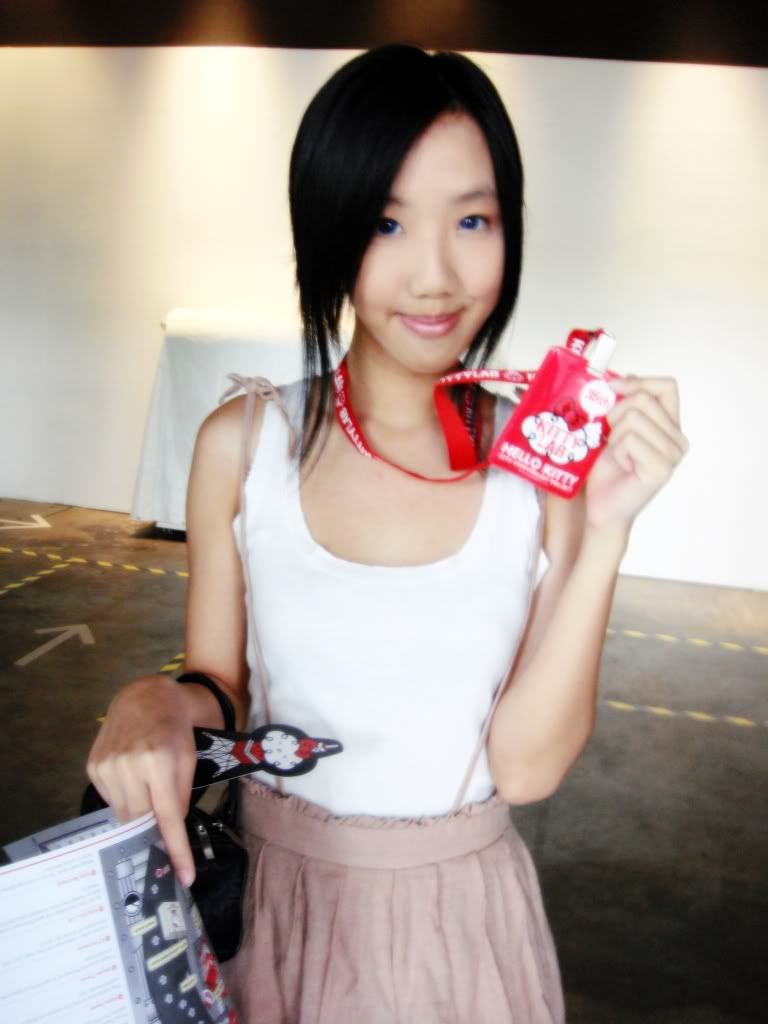 We receive a Hello Kitty Name card holder as well. I was told that on certain days,they gave out white ones. On my older hand,I'm holding the entrance ticket and the map of the place.
Pink for the occasion!
There's these 2 huge Hello Kitty models where everyone is taking pictures with. I think even people who never bought the tickets can also go and take because it's just outside before the entrance of the lab. It's so cute,the people working there are all wear lab coats with a hello kitty icon!
We are given this each to take around the place and play with the games after one of the them briefed us. This is called the KTA. There is a heavy grey thing below that allows the machine to detect and it has a profile for us. Something like a profile in our EZ-link card. We can even go and look for the Kitty Police Station if we're lost! While playing the games,we're suppose to put this on top of the machine. Each station lets us choose our
accessories

,

hairstyle

,

ribbon

,

outfit

,

height
and even the
horoscope
of our kitties!
It's so cute!
Watch this video for more information of how it is like in there.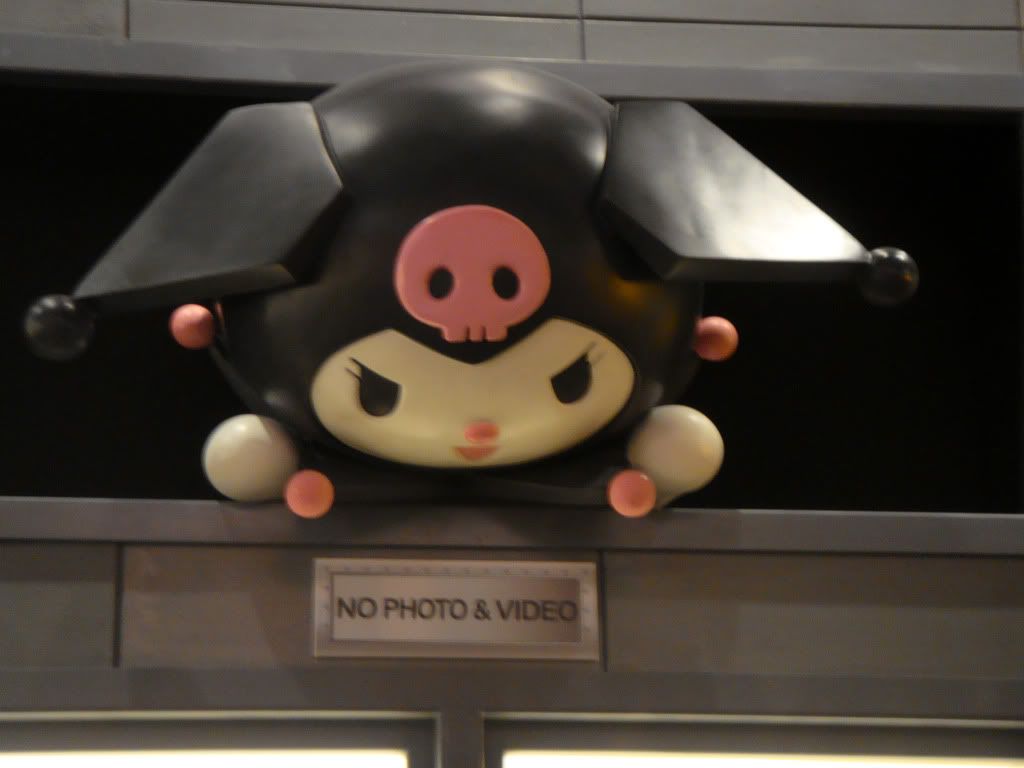 Here's Kuromi,sure looks like a cheeky little devil.
Kitty Hospital
Outside Kitty hospital,this little teddy bear is waiting to be seen by the doctor. If I wear my arm on a sling and cry like this bear,can I stay here and wait to be seen by a doctor too? :'(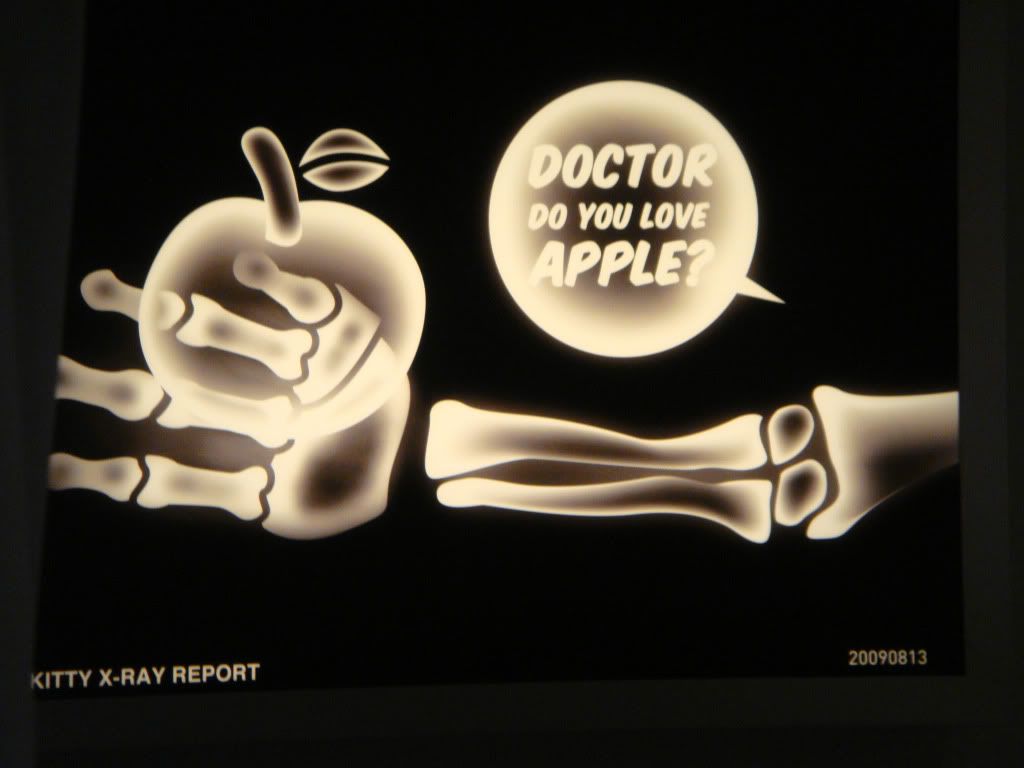 "Doctor,do you love apple?"
Sure,of course! Haven't you heard,
an apple a day keep the doctors away
?
Gees,skeleton hello kitty.
Here's
Kitty College
!
I wish there really is a school like this for hello kitty fans. Studying everyday in a
pink-ish
environment with kitty fans as well would definitely motivate me to score As!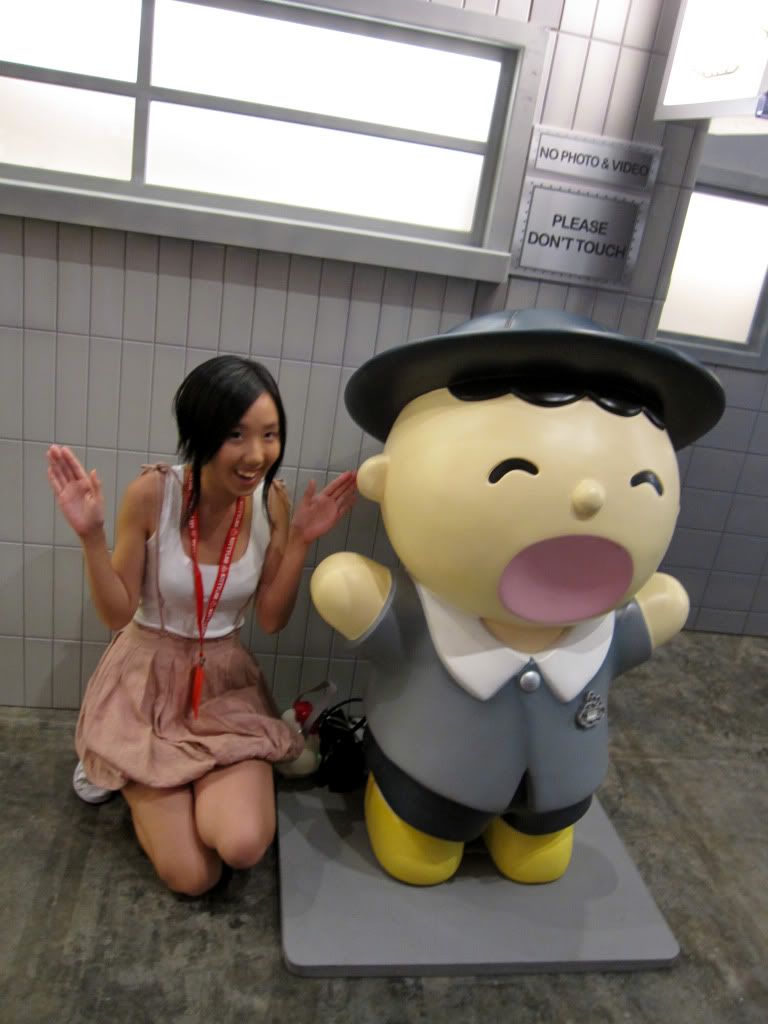 "Waah,where are youuuuuuuuuuuu!!!"
There's even a museum inside?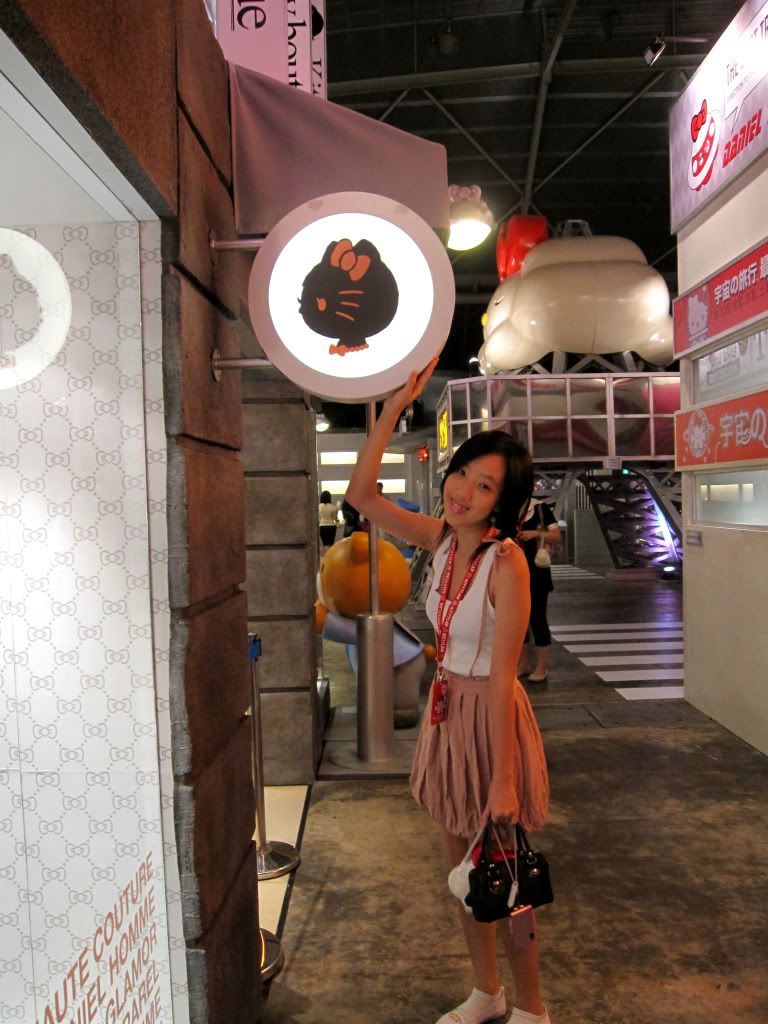 Kitty Boutique
One of my favorite place.
Guess what I found outside? But it can't be.....
Those bags.... OMG!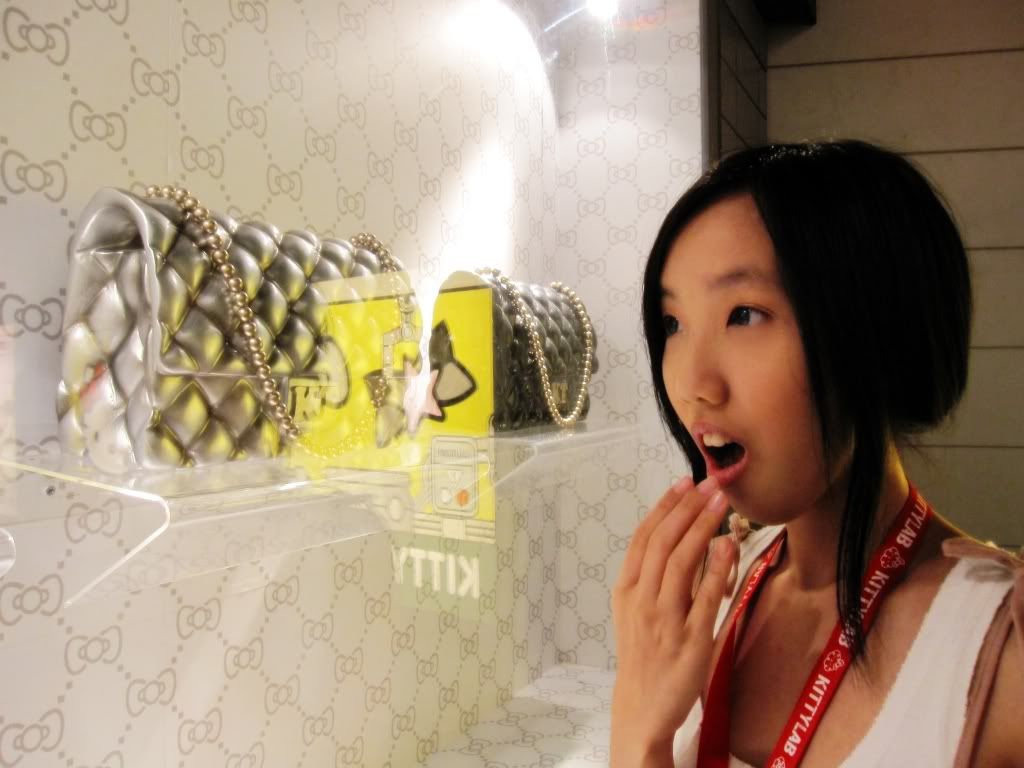 Are those Chanel bags in

white

,

grey

and black?!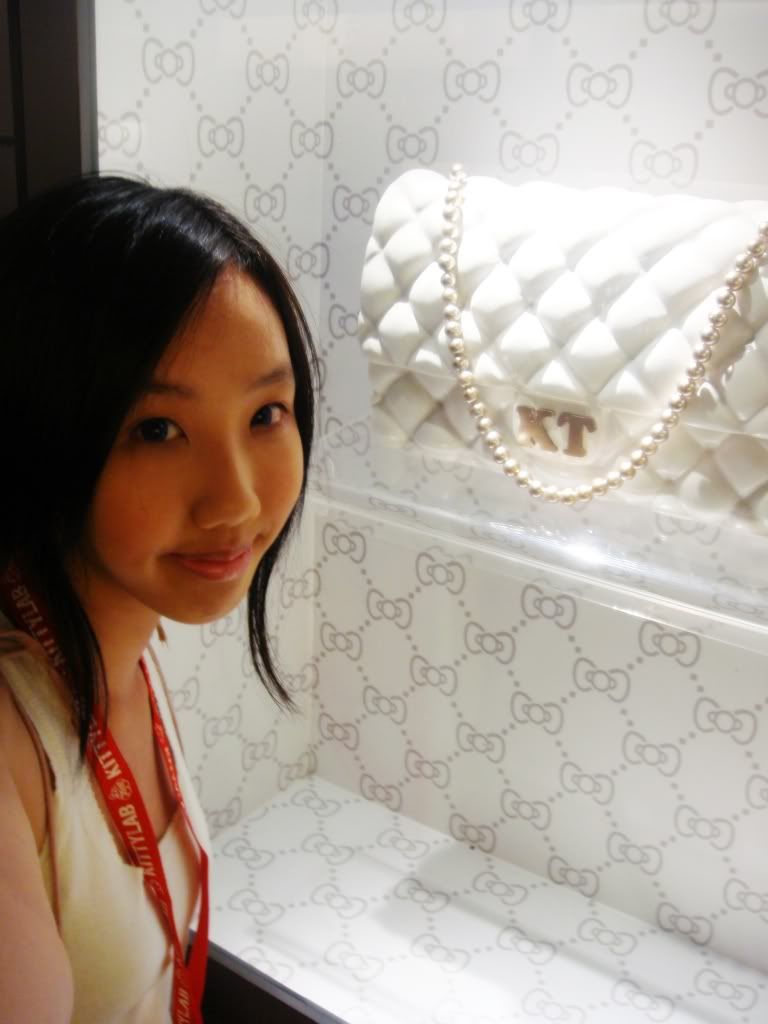 KT? Kitty?
Nope,I guess they aren't after all.
"Let's dress!"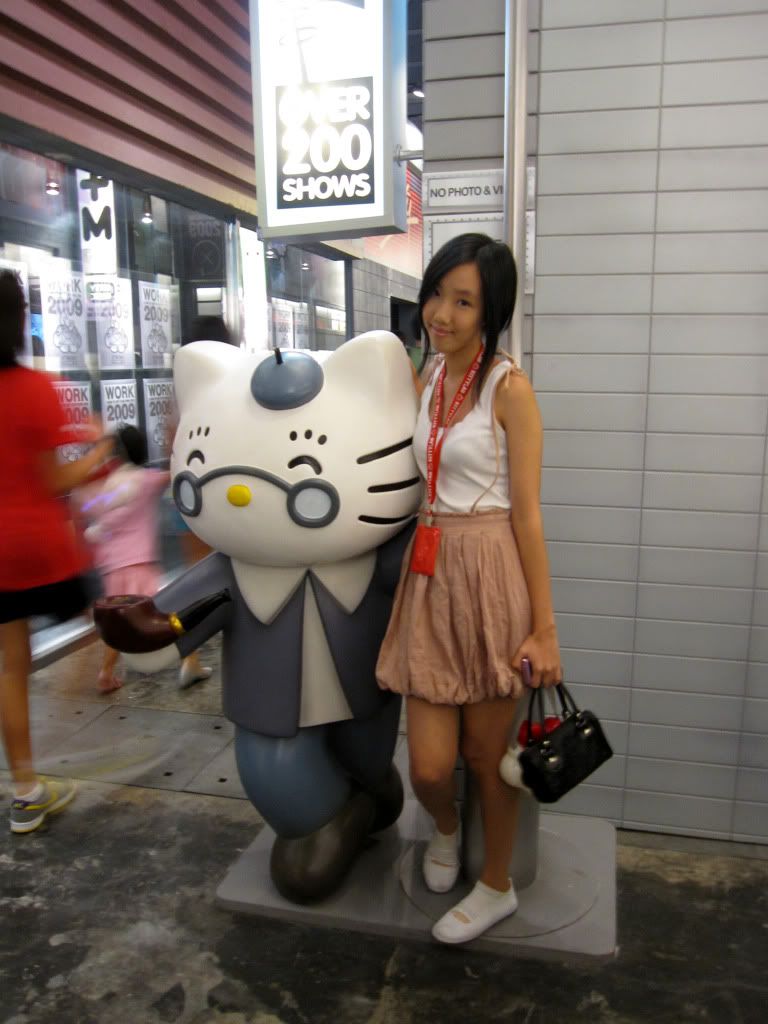 To be honest,Daniel kitty,I don't like standing next to smokers.
But it's okay,just for you I guess :)
Money Changer? It's just a signboard. Do you really think that there's Hello Kitty currency?
A super huge clock that let people check the time and those who wants to make it out within 35min to earn 'a good citizen's' badge.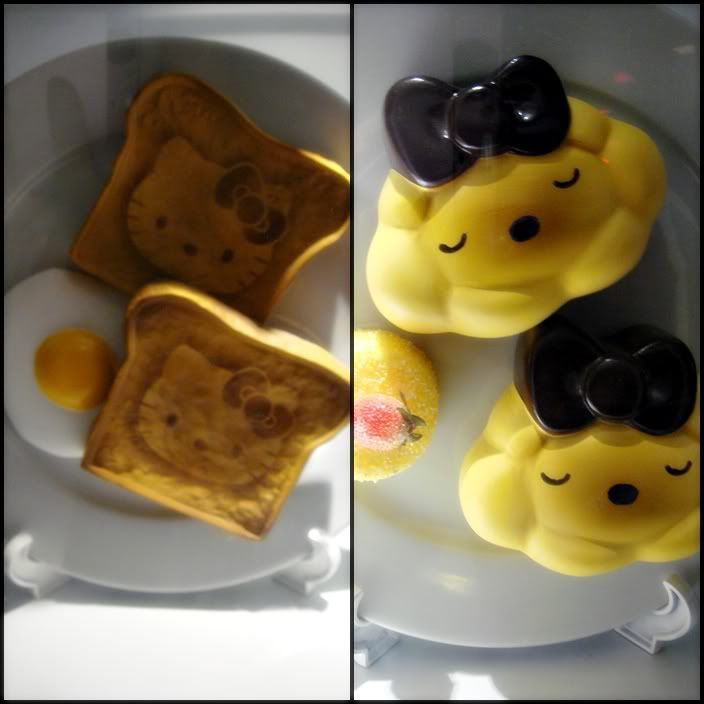 Kitty Cafe
Sheesh,on other blogs,they look so real that I though they could be eaten! If there is a real thing,I don't mind paying to try. But I bet everyone would be wanting a piece of it too. Chefs are gonna get real busy!
Here's my Voyager Kitty who's born on 27 Nov 2009,who likes dumplings and horoscope's Aquarius and likes to explore new things. She's wearing a maid's outfit and thankfully a matching ribbon. She has mad cute eyes,but sadly I didn't have enough time to choose even though I won and ended up with a weird spectacles with some...
duckling
?
Joyce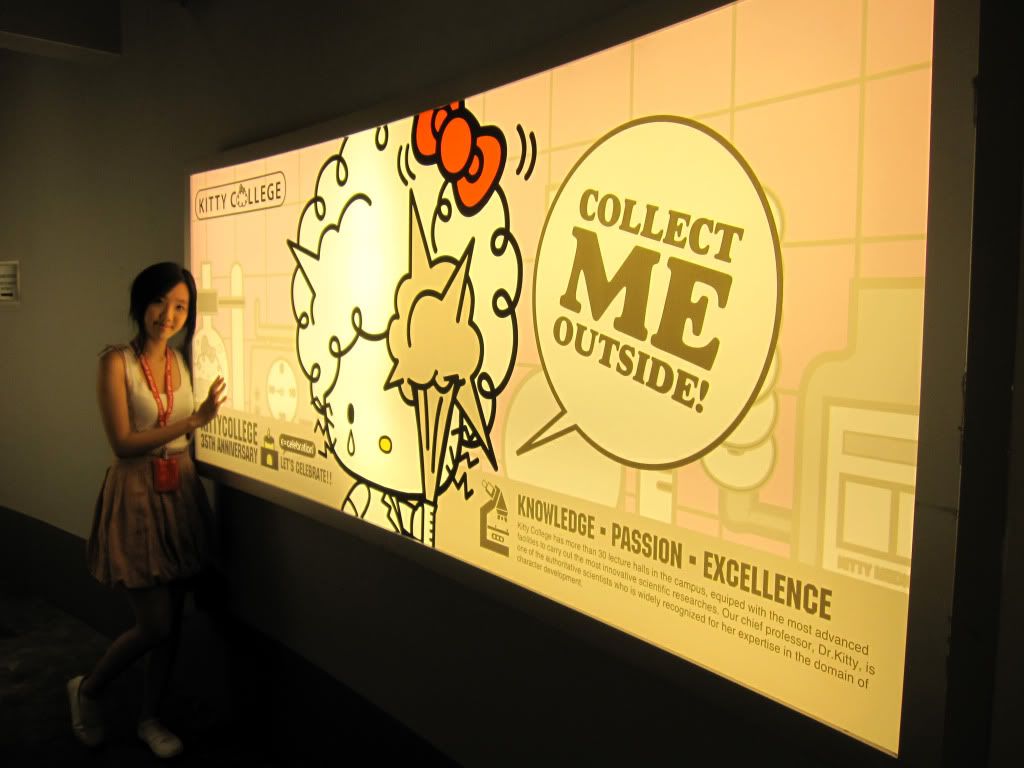 Yes,Hello Kitty. I do so much want to collect you but you're too expensive!!!
Kitty line!
Our last photo of this favorite day,with our favorite kitty.
And I earned it! I am so happy. The medal is really made of metal,pretty good material I would say. I reckon we stayed inside for 20min only,which is quite expensive. That meant that each minute cost us more than $1!
Now,Imma good citizen!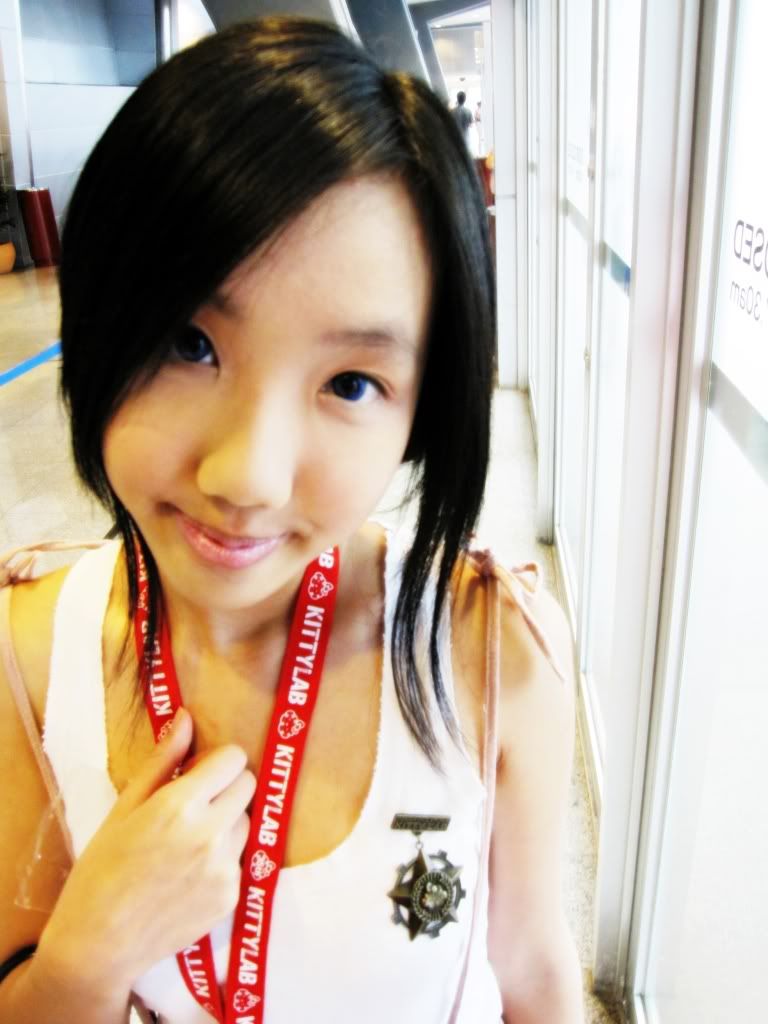 For... Errr.. Staying inside for less than 35min and totally letting them earn more than $1 per min?
PS. I would love to have this for christmas present even though it's for kids.
Anyone?
Photos credits:
Joyce