I went to KL over the weekend and this time round,
June
was with me.
Took a bus from bugis to Johor,and then to KL. We reached around 12.30am and took a cab to Ev's place. Damn irritated because the cab driver not only he didn't want to go by meter,he took us in a roundabout. I kept scolding him to drive faster and eventually he just let us take another cab. Which was whole lot better because he knew where the place was. The first cab driver ask for 12rm from me but I just stuff 10rm into his hands and close the door.
Anyway,June and I had supper with
Bern
and
Ev
at the mamak nearby. Tomyam soup plus prata is delicious when you're hungry!
Day 2
Out shopping with
Victoria
at KLCC with June. Gees,haven't seen her in such a long time so we chat while shopping around Zara and Top Shop,where June found a pair of shoes that she like but doesn't have her size. It's okay,we have it in Singapore!
Then it's rushing back to Jess's place at 5pm to change and prepare for the night's event:
firstly,
Jackie
's birthday at Pappa's Rich @ Pyramid
Jackie's way too nervous!
Next up:
D'Ultimate Birthday Bash

@

Barcelona
Everyone's busy registering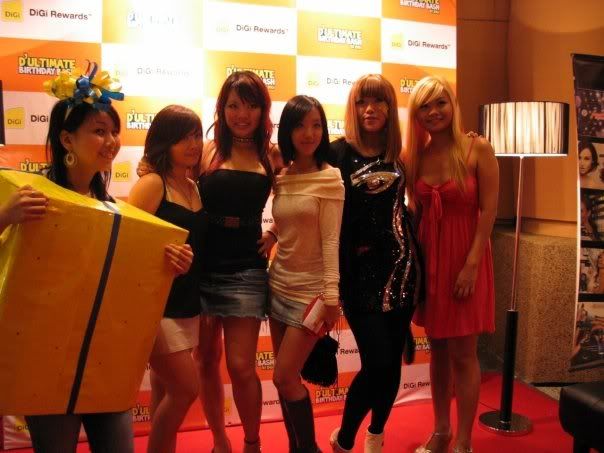 Have our photo taken outside the club first ;)
The party started out with this. Behind,they gave the beat while these B-boys and B-girls dance. I'm not sure if it's spelt correctly though. Together with the MCs for tonight:
Liang and Hunny Madu
Then it's games and prizes. It started out with a lap dance by 2 inncent guys being called on stage. After they failed,Jeremy went up and this is what happens,
Amanda
and
Jacq
were being called up. Who knew,Amanda got high too and hug Jeremy! Whooha,scandal eh? ;) And it was
Sam
and
Dusty
doing it to
Jeremy
afterward,this is called revenge for the girls. HA!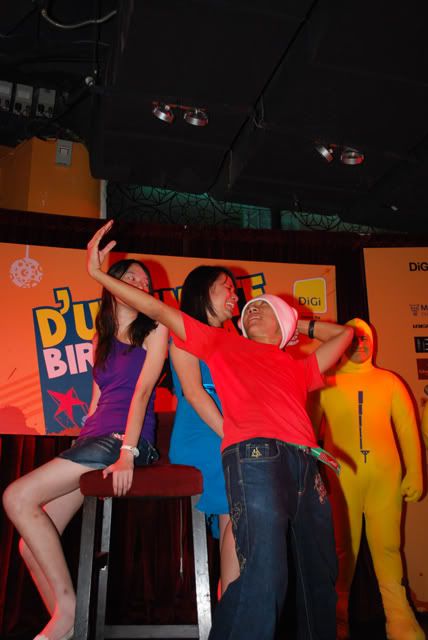 June's hair is probably the most outstanding in the club XD
Scandals are seriously bound to happen in a club.Especially if you strip,
Sam
flaunt your bod and this is what you'll get:
.
.
.
.
.
.
.
.
.
.
.
.
.
.
.
.
.
.
.
.
.
.
.
.
.
.
.
.
.
.
.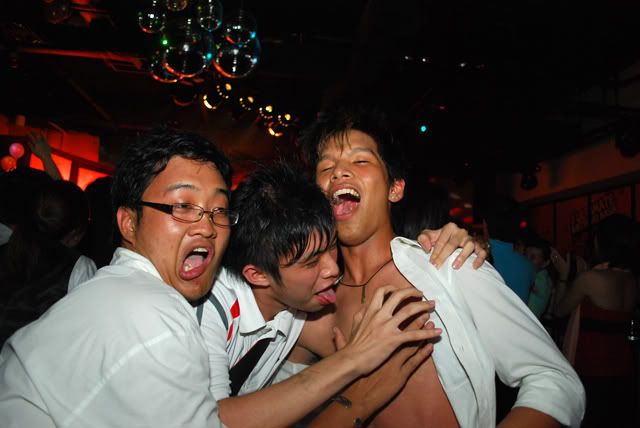 Is this the most awesome threesome ever?

Free Blowjobs anyone?
And this too!
Not at me or my funny mouth,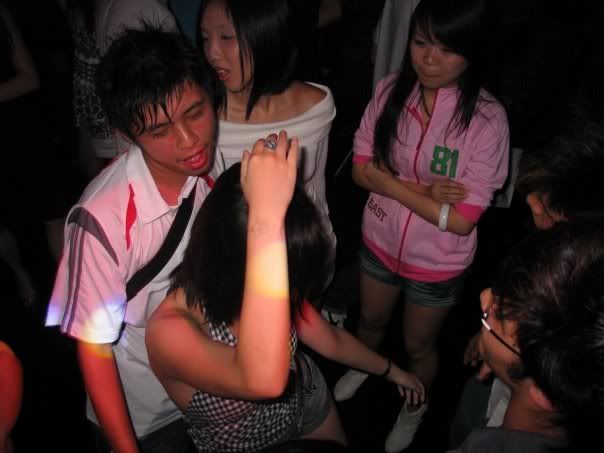 My cuzzie,
Nigel
seems to be enjoying himself with Samantha HUH!
Funny thing was,the security didn't allow us to put our bags on top of the speakers...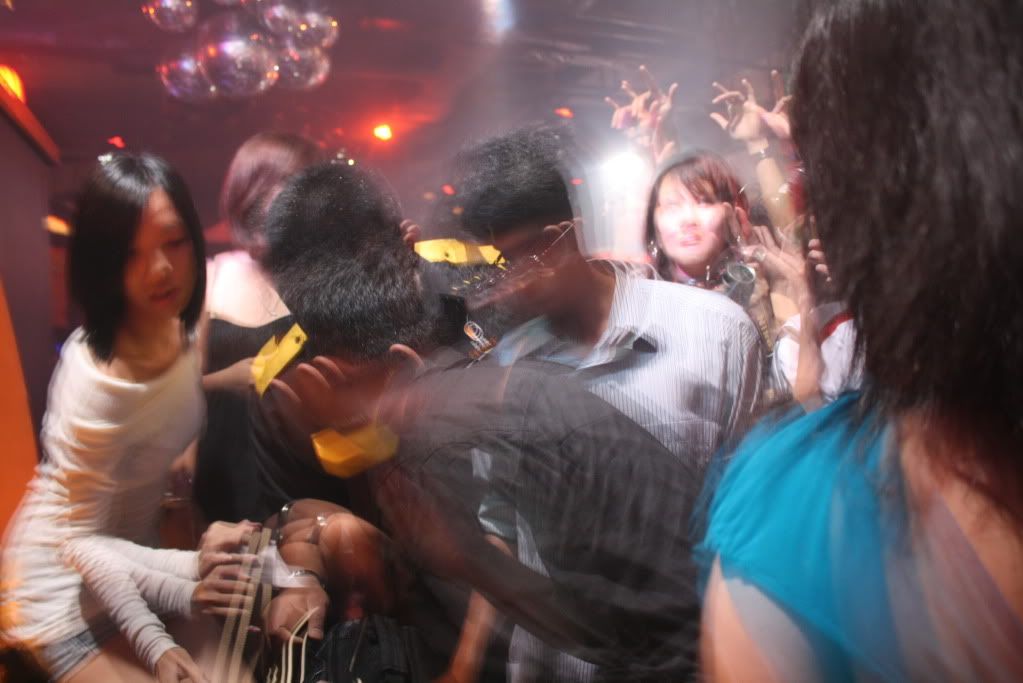 But he said yes when I asked if we could stand up there and dance o.o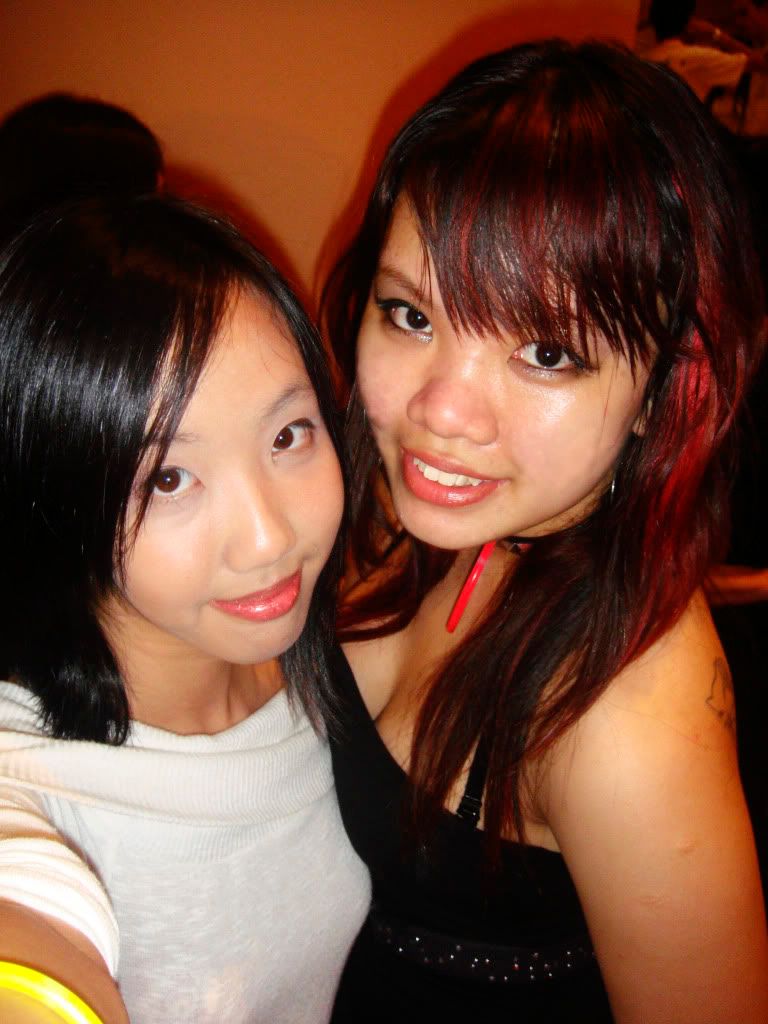 Victoria
(Left),
Jess
(Right)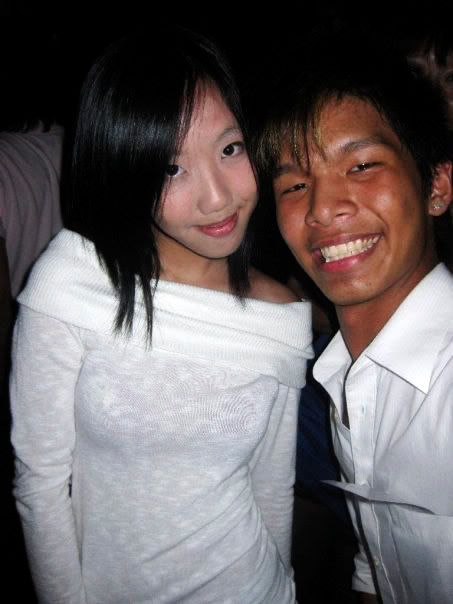 Look at this face,remember him! He is the guy who took my picture just as I step out of the toilet!
Nigel
(Left),
Amanda
(Right)
SimonSeow
(Left),
BinBin
June(Right)
Me and
Zues
Joey G,DJ from Malaysia
Then it's dinner at some cafe. I think it's called Asian Cafe,delicious food there!
Jeffro
and
Jacq
before they leave.
There were many more peeps in the club like Christhoo,Hitomi,Xiang,YuLiang,Jason and Zoey but I didn't had the chance to take pictures with them. Too chaotic! Photos thanks to Sam and Jackie,some of my own as well.
Day 3
Victoria came over and we had lunch at Jess's new place. Gosh,it's damn cool and classy. The view outside was better,greenery! We fixed up the closet and bed frame. Hah,this is called GIRL POWER! Chris came over awhile later to help out for a bit and soon,it was 6pm. June,Victoria and I took the LRT back. Well,rants of the bus drivers another day.
Toodles~