Nuff

nang movie contest
The Ugly Truth
movie advertorial
What is the biggest turn-off during a date?
Some say men who talks only about themselves,some say guys who doesn't pay. Sure,whatever you like. But wanna hear what I say? I'd say:
Guys who allow waiters to bully us
.
Yes,you're right. I am very particular about services and our rights while dining. Excusez-moi,we pay the service charge,we have rights too. Ever heard of 'customers are 95% right,waiters are 5% right'.
While dining,customer is the king. -Ying Zi

Call me a typical kiasu auntie,but at least I'm going to fight for my rights with high heels and clutch rather than any silly old umbrella.
A personal experience? Sure,listen to this one.
A couple of years ago,a guy dated me out during valentine's day and we went to this french restaurant by boat quay or clarke quay
(whatever,the names are so confusing!).
Yes,it's true okay,the name of the restaurant was
Brasserie Wolf
.
The boat ride in Singapore River was great,we're enjoying the view. And we had this 4 course dinner with the candles and sitting by the side of the river. There were many other angmos around too.
After our 2nd course,the 3rd course seemed to be very slow and I'm getting really irritated waiting.We've been waiting for 45min and the food is still not coming.
And he is just sitting there,looking around and sipping his drink. I was infuriated!
And I asked him to ask the waiters,but he said his position is not easy for the waiteres to spot him. Wah liao,you want lao niang to qing zi qu ma(do it myself) ah?

Fine,so I managed to catch hold of the manager and asked him about the arrival of our 3rd course. Then they realised that they have missing orders and all the shouting starts coming in. And that guy can actually say that I looked very fierce,as though
'I'm about to devour him'
. If he had spoken to him in the first place rather ME,then I wouldn't be so irritated! You needn't know what happened after that,other than our food coming on time.
Yesh babeh,this is probably where I first found my streak to torture people in the service line.
Of course,at that point of time I was too ignorant about asking them to cancel the service charge yada yada etc.
Of course there are a few minor things that turned me off during dates like,the very well-known
awkward silence
or
the guy who doesn't pay
. Sure he did,just that his face twitch a bit. Who cares? I enjoy my day and he does his job as a gentleman.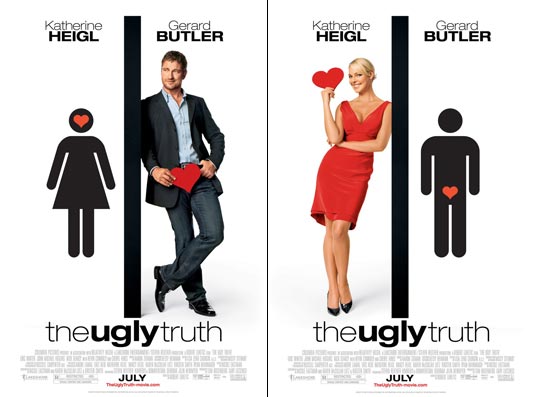 Why do I wanna watch?
Sure,sometimes us girls encounter guys that we like yet know not what to do to attract them. Sometimes,we just succumbed to fate and let them go. However,what if they're too good to be missed? I certainly wannna be as attractive as Katherine Heigl
Of course,it's impossible for such a hot woman to not be able to find a man. Unfortunately,I'm just not as hot as her :(
Hot man and hot woman!
Wait,doesn't he look familiar?
King Leonidas of 300 SPARTANS!
Yes yes,you've seen
his butt/sex scene/fearsome face
but here,he's going to be a decent man. There'll be no killing,blood spillling scene. Or maybe just a little scene where Katherine tries to seduce him.
So there,I'll catch you guys at the theatre ;) Oh,and not forgetting to tell you guys,be a fan at the official Facebook page and catch The Ugly Truth when it opens in the cinemas on the 17th September 09!