DIY TONGUE PIERCING!
Just anyhow poke your tongue also called tongue piercing what.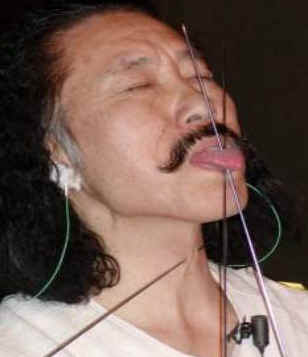 Wtf is this tongue piercing?
It looks more like torturing a mental patient at some mental hospital
Do it the BBQ style la.
When you're at some BBQ,go take those sticks and poke several holes.
Macho style
Indeed,the best way is probably to drill a hole through your tongue. It's also called tongue piercing!
The other day,Eliz and I met up to study.
PS. I haven't see her for don't know how many months.
But before that,she said she wanted to pierce her tongue and even bought the
sterilized
needle. So we went to some place quiet and sat down. She started to take out some ice and tissue to numb her tongue for a bit.
Sterilized needle
One of the essential tools. You're not seriously going to use a satay stick,are you?
Lighter and your tongue stud.
My goodness,look at how sharp it is!
And imagine it going through your tongue. ARGH!
Stick out your tongue..
Her we go! Please be a little patient as our darling is very scared.
How does she feel afterwards?
The end of the results?
Tadah!
No tongue or any additional piercing for me,I'm an angel! :D
Wait,studying?
Of course,we went to Xin Yi's house and studied ;)