Hi darlings,it's been a week since I've blogged but it's not my choice
Blogger's had problem and it's fixed. Too long for elaboration
Anyway,weekends are for partyyyyyyyyyyyys
So yeah,last Saturday attended the July Babies' Birthday party at Pasir Ris Park
I brought my tent,and my doggies.
I was struggling to hold one puppy in one hand,holding on to the leash of a happy dog on the other hand AND a tent AND a bag. Luckily
WeiJie
found me soon after I alighted from the cab. Followed by
Joyce
and
Fyn
.
Soon after,which the NPCC boys started to pitch up the tent and many people started pouring in.
I should probably let the pictures talk.
Wait,watch the videos first. It'd be better
Both videos specially constructed by
Joyce
,damn pro at it.
Camwhoring on the way there!
Retarded Bobo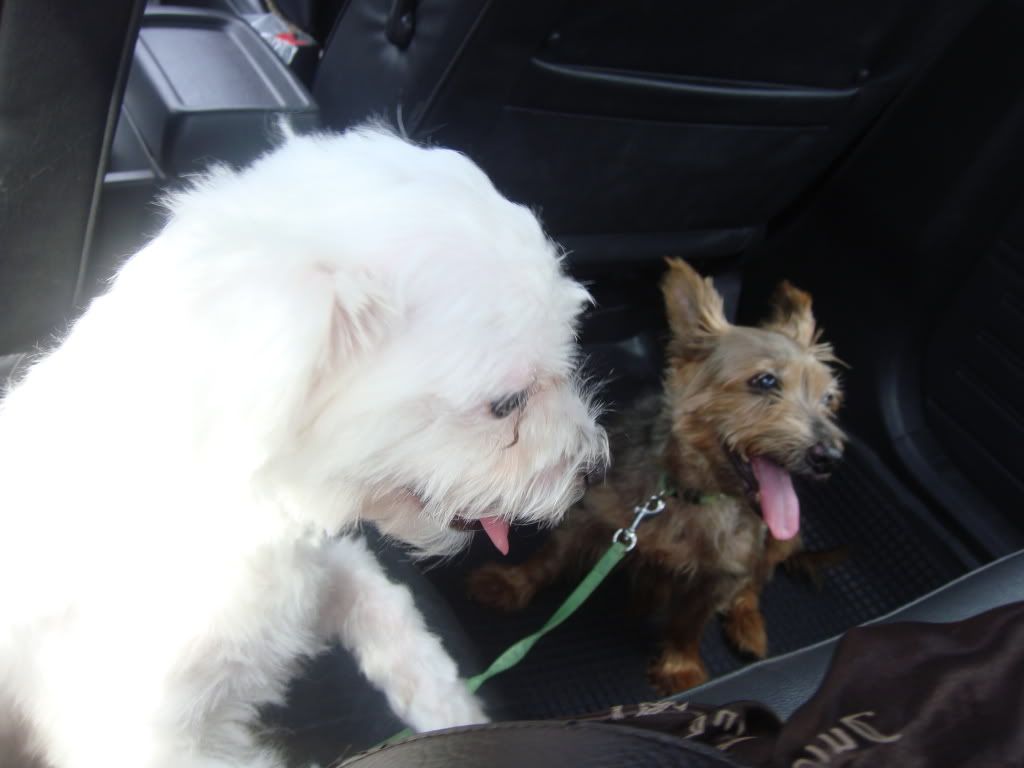 Aren't they sweet? I love them!
Their birthday cake,sponsored by JS.
Don't ask me why it's Barney,I have no idea either.
Them blowing out birthday cakes.
After that we wanted to have a cream fight,but a lot of people didn't want.
So nobody picked up the cream,just sat there staring at the cake.
Just as we thought we can begin eating,weijie snatch the cream and started chasing people.
And this is how the food fight start. EVERYONE use their hands and picked up a bit of the cake and start smashing everyone around them.
My first time seeing such,so I opened my bag to take picture of Jiaqi with cream on her face.
My,my.
Who should dropped by was Mel!
He totally smashed it in my face!!!
So i guess I just have to join in the cream fight!
The very nice jellies made by Joyce
But,*clears throat* Jia Qi the birthday girl accidently drop the box on the floor. Surprisingly,some very nice guy tag us all in facebook,each one of them jellies representing us
I'm the yellow jelly on the furthest right.
I figure out you guys probably wanna see some unglam pics of me and maybe the others.
Another unglam shot
Kai Zhi
's Chicken Wings
I honestly,absolutely DO NOT believe in chicken wings at BBQs.
As we were buying drinks for the rest at NTUC,Fyn and Joyce told me that I simply
MUST
try KZ's chicken wings as they're really different from what I usually eat.
Someone actually invaded my dogs' privacy of shitting in peace!
They pooped all over the place,which turned out to be a chore to chase after them with a plastic bag to clean up.
Someone was very mean also,they all keep saying want to BBQ my dogs!
And still can say that the black one is chaota(overfried) one and the white one is raw one,tender and nice!
T_T!!
At the end of the day,where the sun is setting.
And everyone is happy,with KZ's superb delicious chicken wings!
Halfway,it rained and everyone cramped into my tent,which is actually not enough.
Don't know to say whether it's worser or better,Andy and Alton came!
Okay la,cause not enough space to shelter them and glad that they can make it for the party.
As we can't start the fire,some of us gave up and started playing black jack.
Which the loser actually has to do many silly things.
Including kissing guys and girls,

doing pole dance at lamp posts,
doing indian dance behind trees,

Yeap,each one of us has done it ;)

Let's end off the post with this!:
JiaQi