I had a super fun-filled weekend over in Hong Kong last weekend with B. It was a rather impromptu trip (that's why I like most about it,being spontaneous!) as tickets were booked only 2 days before the trip! Rushed down to the airport and barely made for the check-in. Tiger Air is very strict about it and I had missed my flight before.
Off I go and here I come,Hong Kong!
Upon reaching, we headed straight for the MTR and bought the octopus card. We paid HKD150 each, with HKD100 value inside. The ride was about 40 minutes away from our hotel,really fast!
We stayed at G Residence Boutique Hotel. The hotel rooms were available in
Good, Greater and Greatest
. The rooms were really arty-farty, not your usual hotel rooms. It's something that I really like. Despite it being a boutique hotel, they don't save costs and do provide the full amenities in the room. The shower and shampoo gel were quality stuff, really comparable to an upscale hotel!
This is the Good room that I stayed in,about S$500 for the weekend.
I reeled back in surprise, I wasn't expecting to see this because B booked this room as a surprise for me. He was really glad to that I liked it. No, I have to say that I love it! I would definitely choose to stay here again during my next visit to Hong Kong.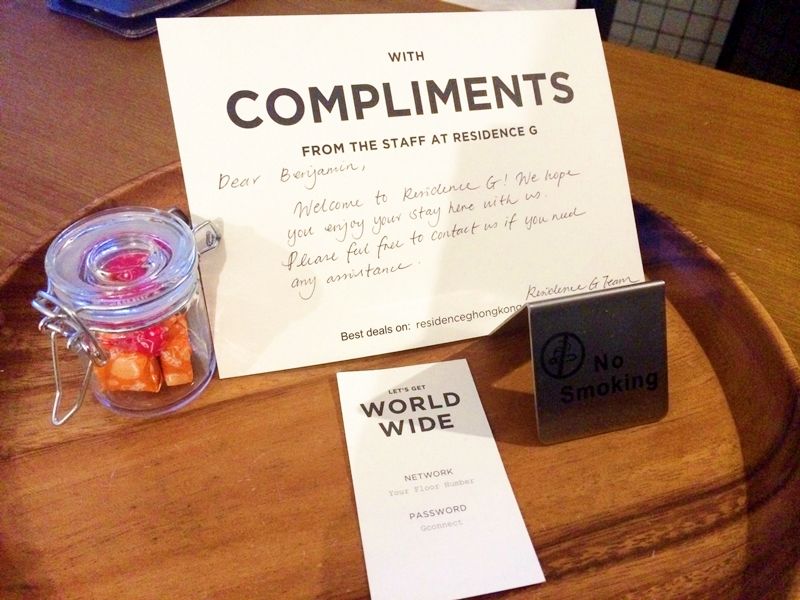 Had a handwritten card wishing us a good stay in Hong Kong. The location is a little elusive but a warm welcome at the check-in was really nice, accompanied with a tray of complimentary cookies. They were so fantastic that I couldn't stop munching them!
It was evening by the time we arrived,so we went out for dinner.
Basking ourselves in the neon lights of Hong Kong!
We almost walk everywhere in Hong Kong and seldom took the MTR. While Shangri-La hotel is located at
Admiralty MTR Station
, it was within walking distance from our hotel. We went to there for a really delicious international buffet.
There was a huge variety of cheese,ham and different cuisine like Mediterranean and Indian food. I'm having seafood craving lately so B chose this place, I almost drooled at the sight of lobsters! There were no crabs though,sadly =( But it's okay,B and I managed to hoot all the lobsters and had a really satisfying dinner! International buffet dinner for 2 at Café Kool is HKD1315 (S$210). The price is worth it as there were many cuisines to choose from!
We walked to Avenue of Stars and took a stroll,breathing in the salty air and admiring the towering office buildings across the banks on the other side. It was a sight to behold and one couldn't help but marvel at the economic success of Hong Kong.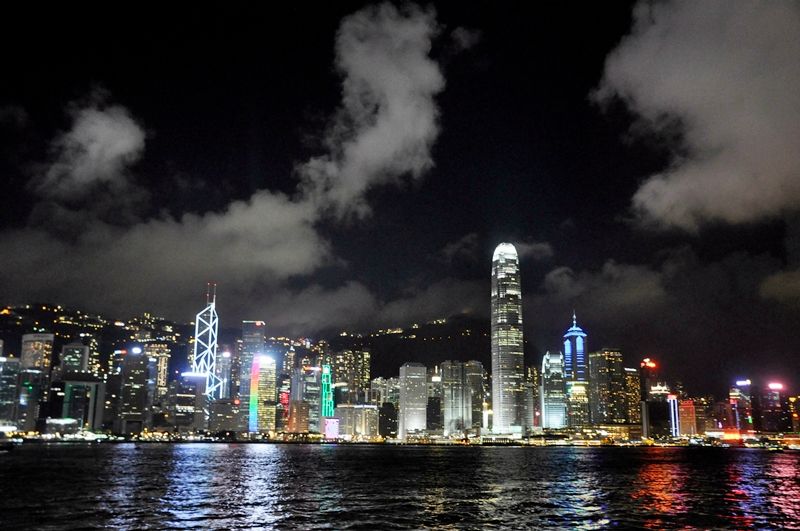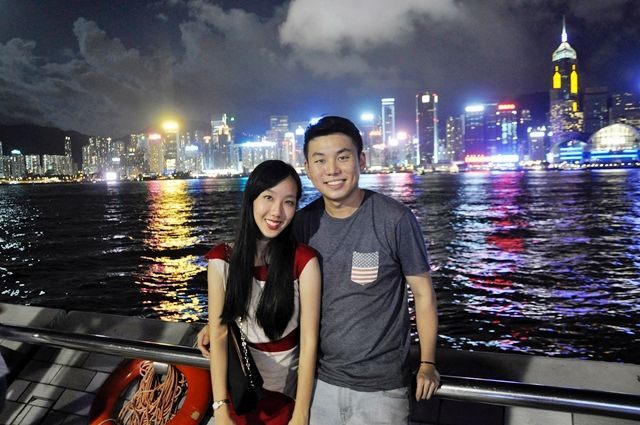 A touristy shot... I guess?
Enjoying the trip,I look forward to the next one!
Decided to go to Macau after walking,since there's plenty of ferry timings to go and come back. There are two ferries available but they take you to different ports in Macau! We made a mistake and took the one that goes to the hotel side,called Taipa. The correct company to choose if you are going to visit the casinos,is
TurboJET
. It runs from 7am-12am with one ferry every 15min,and certain timings through 12am-7am. The ferry terminal is located at
MTR Sheung Wan Station, Exit D
. It takes about an hour from Hong Kong to Macau.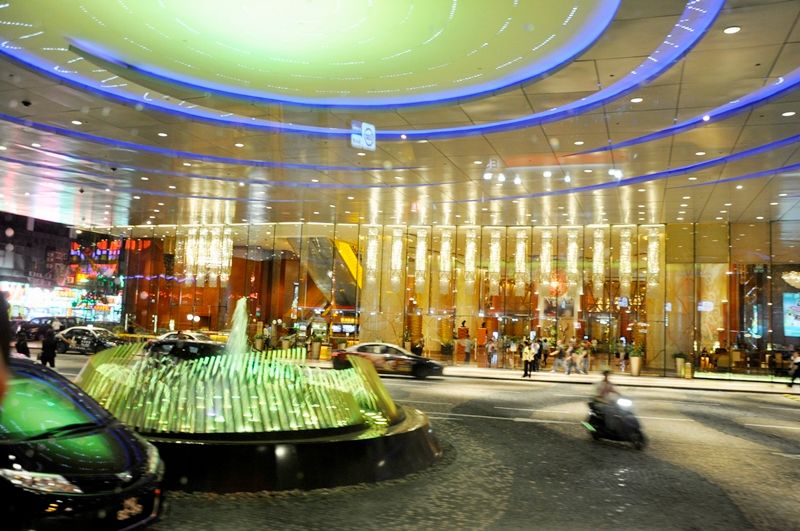 We passed by Starworld Hotel.
But what we really wanna see is the super posh and atas casino is Wynn Casino. Nothing fancy about the name,except that it sounds like 'win'. But it's really quite posh,and the entrance a massive carving of zodiac on the ceiling.
All the 12 animals in anti-clockwise order.
The snake looks really fierce,more like a serpent!
I think they are really beautiful,and fearsome looking. It's just an observation,but I realized that the rats and monkeys run around different zodiac while the rest stayed in their respective columns. Do check it out the next time you visit Macau!
Strolled around looking at jewellery stores and different casino entrance.
Grand Lisboa Hotel
A winner's pose,haha!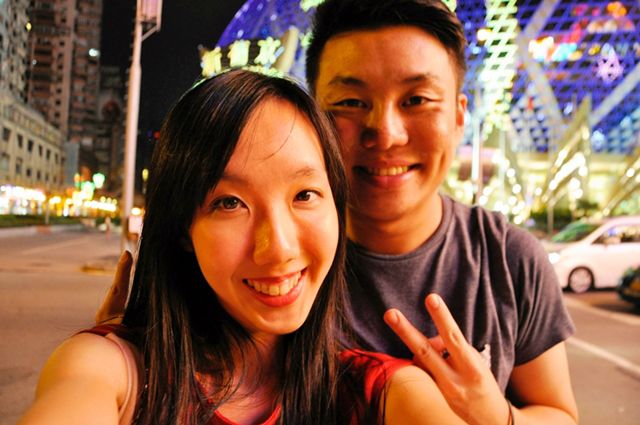 One more picture before we return to Hong Kong. Even though I have never been to Las Vegas,but I can imagine what is it like over there. Macau epitomizes the congregation of luxury watches and jewellery altogether in one area. I have never see SO MANY luxury watches in one shop and the shop next to it sells the same stuff! Gosh,I think one shop itself is enough to buy a HDB flat in Singapore. I guess there are high rollers who win enough to come and shop after their visit to the casino! And most of them don't really close shop.
We went back to Hong Kong and had a good rest for our final day in Hong Kong. Really,I love how comfortable the hotel is. We went to the famous taoist temple called Wong Tai Sin Temple,located at Wong Tai Sin MTR itself.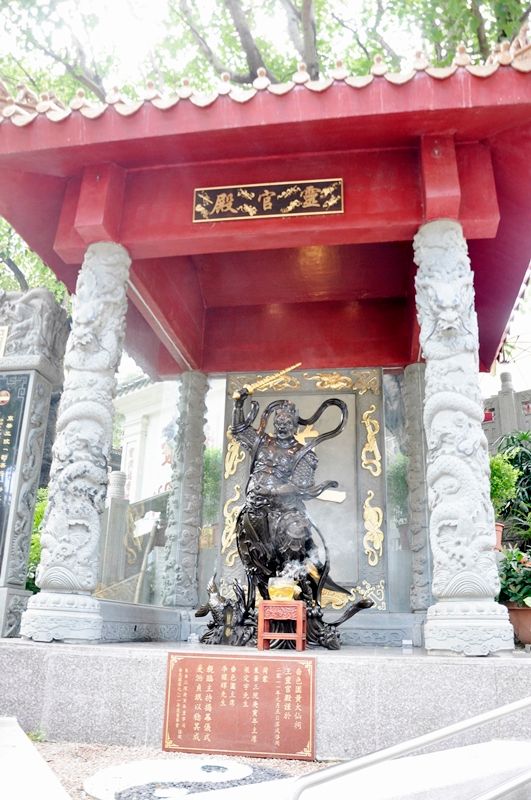 It wasn't overly crowded even though it was a Sunday. Prayed a little, basically for good health and good luck. Hehe!
We went to temple street but there wasn't much things to buy,it's rather similar to Kuala Lumpur's Petaling street.
We both got a cup of famous 許留山 Xu Liu Shan Healthy Dessert,it was really nice! Mainly mango jelly with coconut milk and some water I think,not very sure what's at the bottom.
I really can't wait to come back to Hong Kong again,it was a wonderful trip! Apart from the buffet that we had,we had rice noodles which is pretty cheap,about $8 per person. And delicious too!
I'm beginning to miss Hong Kong already. Shall plan a trip again and hopefully with more time to shop!!!